This site uses cookies to provide you with more responsive and personalized service and to collect certain information about your use of the site. You can change your cookie settings through your browser. If you continue without changing your settings, you agree to our use of cookies. See our Privacy Policy for more information.

WOMEN'S HISTORY MONTH FEATURED BOOK TRAILER:
The legacy of Charles Spurgeon is profound, but the story of his wife, Susannah is a hidden treasure. Don't miss out on the untold story of a woman of faith, courage and wisdom.
Special Offer for Susie Spurgeon Bundle and When Other Shuddered extended through April 15th.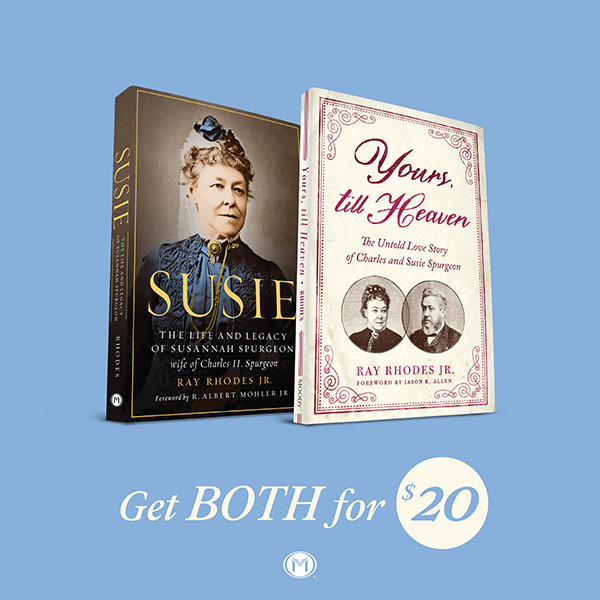 Susie Spurgeon Bundle
Behind the great man was a great wife—and between the man and wife was a profound marriage.
New Releases
Featured Author Videos
Navigating the Unique Challenges of Military Families
We all need to honor and recognize the unique sacrifices and challenges that military family members make in support of their loved ones in uniform. America is grateful for you!
Military couples can sometimes find it challenging to balance military and marriage, especially during deployment. The 5 Love Languages® Military Edition helps to heal broken relationships, strengthen healthy ones, and bring couples closer together . . . even when they are far apart.
Click to view all The 5 Love Languages® titles.
Take this quiz to learn your love language.
Finding God's Glory in the Mess of Everyday Life
As author Asheritah Ciuciu points out, "Jesus wants to meet us—right in our mess."
At Moody Publishers, we are seeking God in the ordinary, just like you. What if grace-formed habits could be naturally woven into the rhythms of our sacred, everyday lives? As a publishing house, our heart is to equip you for a life of freedom in Christ that overflows with fruitfulness and love. Join with us in seeking the One who is near, and cares about every aspect of our lives.
Click To view Spiritual Growth titles and our Women's Bible Study line.
Bringing the Beauty of Christ's Kingdom to the Here and Now
As church leaders, we are working hard with our eyes fixed on the beautiful vision of Revelation 7:9. This verse tells us that in heaven, men and women "from every nation, from all tribes and peoples and languages" will join in worship of King Jesus. We long for that day!
At Moody Publishers, we are committed to providing you with the resources you need to "Go and make disciples of all nations" while there is yet time. Whether it's addressing Racial Unity, Developing a Disciple-Making Ministry, or Learning How to Preach the Word of God with power and conviction, we want to connect you to authors a little further down the road with wisdom to share.